Commercial Products
Daniels Organic BioStimulant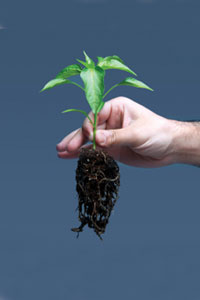 Biostimulants encourage the growth of beneficial microbes. Specific bacteria can reduce the pathogens that cause root disease and produce plant-growth regulators like auxins, gibberellins and cytokinins that stimulate plants to evoke a positive output response.

Bacteria also help to solubilize nutrients and make them more readily available to plants. Improved nutrient uptake and phytohormone stimulation result in such economically valuable crop output responses as increased crop yields.

The biodegradable carbon sources in Daniels BioStimulant are superior to other leading commercial products. Daniels has been shown to produce more microorganisms in a stable and predictable mode than similar products in comparative scientific studies conducted at leading universities.

Daniels BioStimulant will be available in the 3rd quarter of 2012 through Daniels Plant Food Products, Inc.
Manufactured and distributed by Daniels® Plant Food Products, Inc.